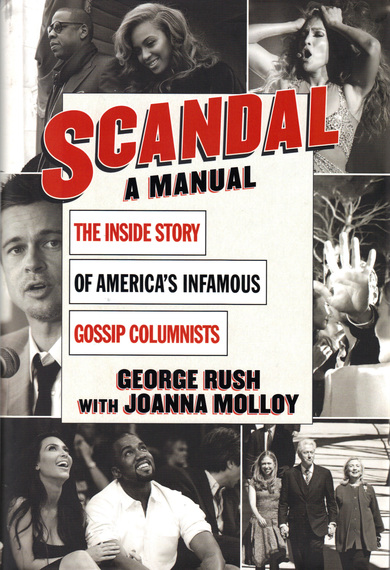 George Rush and Joanna Molloy's "SCANDAL: A Manual, The Inside Story of America's Infamous Gossip Columnists" (Skyhorse/Norton) is the most fun read I've had all year — possibly in several years. It is a delicious look behind the curtain of New York's gossip media industrial complex, the players and the played, and how rival columns and columnists at the Daily News and The New York Post do battle and have been forced to evolve in an Internet/ Matt Drudge/ Fox News/ and TMZ disrupted world.
A few disclaimers: Rush and I became friends while attending Columbia's Graduate School of Journalism, and having birthdays a few days apart have shared many a celebration including our respective birthdays, our weddings to women better than we deserved, and shared life events related to our children about whom we are gobsmacked and who, on occasion, we have forced to visit each other and go on rides at Magic Mountain. I have appeared in Page Six items and in Rush and Molloy and have on more than one occasion been the source of information that appeared there.
All of which is to say that although I like George and love Joanna, I had every reason to hate their memoir of being gossip columnists because I just know too much. Instead, I thoroughly enjoyed it, couldn't put it down and imagine it will take up prominent real estate on chaise longues this holiday season in St. Barth, Aspen, Maui and the Big Island. I wouldn't be surprised if the Chateau Marmont and The Standard put copies on every bedside table.
If it's true that there is honor among thieves, it is a greater surprise to learn that there are ethics among gossips: attempts at bribes are detailed and rejected; facts are checked, and apologies made, ending here and there with a promise "that I owe you one." Brad Pitt comes off as a genuinely nice guy so does, contrary to his image, Harvey Weinstein. Sarah Jessica Parker and Bill O'Reilly, not so well. Julia Roberts and Gwyneth Paltrow deploy their considerable charm to great effect; while Sean Penn and Jessica Seinfeld are lacking in those skills. Donald Trump, Jamie Foxx prove that there's no need to make up material, while Rush and Molloy give us the goods on how spin control professionals such as Howard Rubenstein, Marty Singer, Ken Sunshine and Dan Klores earn their keep.
What's striking is the breadth of the territory they cover: Entertainment, Sports, and Politics, a heady mix that stretches from Paris Hilton's peccadilloes to the political situation in Haiti and Myanmar — it is hard to think of other reporters with as wide a beat. Along the way, Rush and Molloy speak truth to power, break important news stories not only about Mariah Carey, Jennifer Lopez, Julia Roberts or the affairs of Tiger Woods, Woody Allen and Rudy Guiliani, the travails of the Kennedy tribe, and also the entanglements of Bill Clinton, John Edwards, Dewi Sukarno, Bernard-Henri- Levy and Rupert Murdoch.
There is a searing chapter on 9-11 which occurred on Rush and Molloy's doorstep, and the bravery of those who offered aid as well as how they exposed those that tried to take advantage.
Rush and Molloy's "Scandal: A Manual," is neither scandalous in its own right, nor is it some kind of how-to or self-help guide for those who prefer their names writ in bold. Rather it is a vibrant history of our recent times, from the dawn of Page Six to Twitter's IPO, filled with harlots and heroes high and low, a tale of the great, the near-great and the ingrate, the famous and the soon-forgotten all of whom would probably prefer their exploits were erased from the public record – but never will be because Rush and Molloy made it to deadline — and we get to read all about it!
Click here for reuse options!


Copyright 2013 Tommywood